Thursday's events of the 7th Festival of Protestant Culture occurred near and inside the Church of Mary Magdalena on Szewska Street. There were two very different exhibitions about the Reformation and the music of magnificent composers in a perfect performance proved to be a great feast for the eyes, ears, minds and hearts.
On this sunny Thursday whoever stopped at the square next to the Church of Mary Magdalena, was drawn into a carefully prepared journey in time – to the beginning of the Reformation. It was here in 1523 that its "Wroclaw part" began. Who knows whether the meeting of the invention of print with the stormy spiritual experiences of the Lutheran theology of the time, did not shape the character of Wroclaw today as The Meeting Place?
It certainly has a strong echo not only among its streets, but also among the walls of the Church of Mary Magdalena. There step by step guides of two exhibitions – one titled "Here I stand – Marcin Luther, Reformation and Its Aftermath" and another, prepared by the Silesian Museum in Goerlitz, "Faithful in the way, forest ministers, children in prayer." The presentation of these exhibitions took place this afternoon.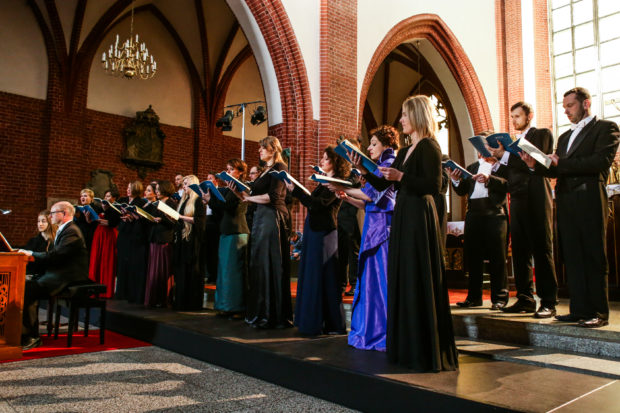 But the biggest event of the day was the performance of the choir of the National Music Forum under the direction of Agnieszka Franków-Żelazny with the accompaniment of Markus Leidenberger, who were invited by Consulate General of Germany. The Luther's slogan "Who sings, twice prays" has become profound, thanks to the beautiful music and great performance. Also, the music of composers such as Jan Sebastian Bach, Felix Mendelssohn Bartholdy and Johann Krieger, whose works have been interpreted by world-class artists, sounded in the walls of the Church of Mary Magdalena as the greatest prayer, taking the participants of the concert to the very atrium of the heaven. There was a lot of applause for the performers and organizers of the event.
We sincerely thank all the participants of today's events. We invite you to the next Festival events, whose full program is available at www.fkp.wroclaw.pl. We also invite you to our profile on Facebook.