Missions
Beata. By God's grace, I have resumed my cooperation with a Christian student organization in Slovakia. I lead prayer meetings, I help students get to know each other and motivate them to evangelism (group or individual) helping them with that if needed. I was also involved in organizing and leading a national conference and a winter camp. Currently I am in the process of organizing training courses "Christianity Explored" which we want to offer in at least two cities. The greatest challenge of this ministry is reaching new students with the Gospel as students are less and less interested in spending time learning about God. My inspiration to continue with my ministry is the example of Jesus, prayer, reading about missionaries and other personal testimonies.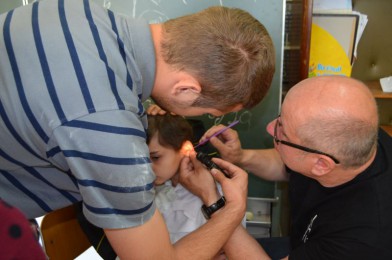 Marek and Bozena. We are EST graduates living in Poland but involved in missions to the countries of the former Soviet Union where we work mainly in Ukraine and Moldovia. It is a medical mission focused on ophthalmological and audiological issues. We have been involved in this ministry for over 10 years. Our main task is to overcome the barriers that separate people from God's Word. As we are both optometrists we do vision tests and give away vision aids (glasses, magnifying glasses). We do it free of charge. During the trip we work as optometrists and hearing-aid technicians Monday to Friday and on Sunday lead worship or preach. We test the eyes and find the right lenses during the first visit, back in Poland we make the glasses to fit the prescription and then we take them to the patient on the second visit. Also, as part of this ministry, we collect frames and hearing aids, describe the lenses, and make individual glasses, etc. We also distribute Bibles and cooperate with other mission organizations.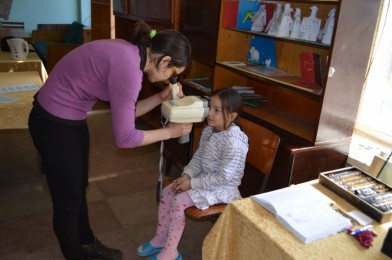 We are also involved in offering material assistance (clothes for the Roma in Ukraine) and in evangelism and in child evangelism. Also in this area God is giving us new opportunities for ministry and opening more and more doors. During summer holidays we organize an outreach camp for children from a Roma camp in Ukraine – we have done it for the last few years. We also organize winter camps for Christian youth, training camps for future missionaries – we've done it for several years. EST students take part in those events. Before the outreach camps for the kids we collect coloring books, jigsaw puzzles, books about Biblical topics and other toys for children as well as clothes and toiletries. EST actively supports our ministry and in practical ways promotes missions. We have taken EST students with us to Ukraine to minister among the Roma and in other towns.
Prayer: Funds for this ministry (lenses, glasses, audiological aids, travel expenses, etc.). Also, pray for our 35+ year old 'mission-bus' that is still working only because someone is battling for it in prayer all the time.